Isle of Thanet Gazette / Thanet Times
A MARTIAL arts club in Margate held a special training session on Monday 15th August, 2011 when it welcomed. four of Japan's best aikido teachers. The top Instructors, who teach at the elite Waseda University in Tokyo, were at the Thanet Martial Arts Centre to hold a seven-hour seminar on Tomiki Aikido. .Fumiaki Shishida, 8th Dan, 61, Tadayuki Sato, 6th Dan, 54, Shogo Yamaguchi, 8th Dan, 62, and Masanobu Kitayama, 5th Dan, 64, came to Margate as it has one of the few permanent aikido clubs in the country.
Mr Shishida is a professor of the intellectual history of file Japanese martial arts at Waseda. He said: "The standard here is quite good. Of course, it always depends on the instructor.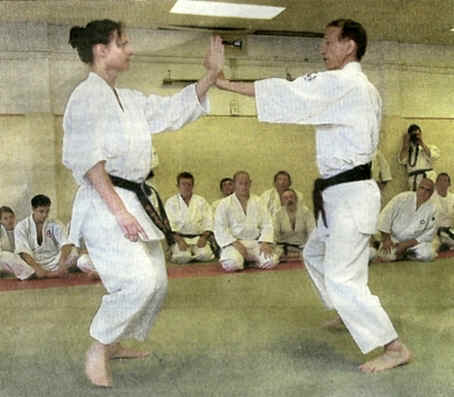 SHOWING HOW IT'S DONE:
Aikido students train with their expert Japanese guests